If you are like most, you set your monthly mobile bill to autopay and forget about it until the day your invoice arrives - and then you are in for a nasty shock. With numerous cell phone plans to choose from, it can be overwhelming to look for ways to save money on your cell phone bill. But there are ways to lower your cell phone without making any drastic changes to your plan.
In this article, we explore some tips and tricks to save on your monthly cell phone plans.
Let us look at each point in detail.
1.

Choose a no contract carrier
This one's a no brainer. Choosing a no contract carrier means you only pay for your monthly data plans and nothing else. Why? This is because a no-contract carrier does not lock you in a contract for a year or two and then slap you with a heavy penalty if you want to leave before the contract ends. A no contract cell phone carrier is a great choice for everyone who covets the freedom to be with a carrier of their choice, while also saving on invisible charges.
2. Family cell phone plans are the way to go
Shared data plans or family cell phone plans are great for those who are looking to keep their mobile bills on budget. In a group that is a mix of light and heavy data users, the heavy data usage of a few is offset by the light usage of the others. Choosing the right shared plan for your family will help budget your mobile spend and cut your mobile bill by close to $300 a year. That's a significant amount of savings!
Reach Mobile's shared data plans lets you add up to 6 lines per group. The more lines you add, the cheaper the costs. For instance, a single line in the 12GB People's Choice plan costs $55 per month. If you add 4 lines, then the per line cost lowers to just $29 per month and with 6 lines, you pay just $26 per line a month.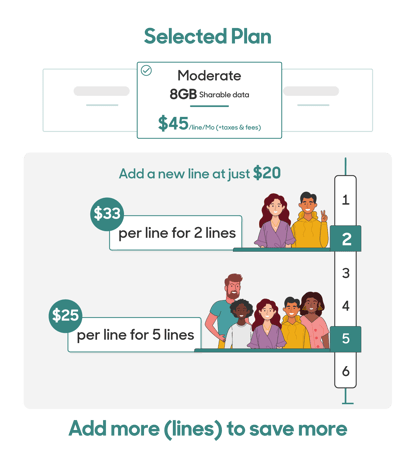 3. Limit your background data use
You know you have been really careful with your data usage, but your monthly mobile bill tells a different story? Well, it could be those sneaky apps. Most apps - like those that you use to engage on social media, or with your colleagues over email and chat - are working in the background even if you are not actively using them. And these end up consuming your precious GBs. To disable the apps from draining all your data in the background, go to your phone's Settings >> Cellular data usage and select the app whose background data usage you wish to disable.
4. Check for offers and discounts
Most mobile carriers run attractive offers for new customers during the first few months. Check their websites and social pages for good offers to try out the service. This way not only do you save money in the first few months, you can also decide whether it is a good fit for you. Check out Reach Mobile's Freedom sale promo that offers a $20/month discount on all plans for four months.
5. Buy unlocked phones
The big carriers often lure their customers in with very attractive device deals. However, please note that these offers come with certain caveats in place. When you purchase these devices from the carrier, you are bound to the service for 24 months or more until the carrier extracts the cost of the device (with added interest), of course.
It doesn't end with that one device though, does it?
By the time your contract period is coming to an end, you have your eye on another shiny new phone in the market. Your contract is extended and you continue to be locked in for another 24 months. If at any point of time you wish to switch carriers, you are charged a very heavy fine.
Save on these unnecessary expenses. Choose a mobile service that lets you bring your own device (new or old) to avoid such penalties. Not only will you save a huge amount of money, but you are not bound to the provider either. Check out these unlocked (no contract) mobile phones offered by Reach.
6. Check your data usage. Do you really need an unlimited plan?
Understanding your data needs is crucial to avoid overspending. Most people buy into the hype of the Unlimited data plan. If you look closely at your monthly data usage, you may notice that most months while you are billed for your full plan data, you end up using just a portion of it. You can view your data usage by checking the Settings on your phone or by examining your mobile invoice. Check out our Phone Bill Calculator to compare phone plans and see how much you can save by switching mobile plans.
7. Stop overpaying for unused data
At Reach, we treat our customers the way we like to be treated. Overspending on unused data is not something we like personally. We automatically discount the bill of our Best Fit™ customers in the months they use less data.
For instance, let's say you sign up for a $55 People's Choice 12GB plan but use less than 3GB in that month. With other carriers, you pay the full $55 even though your data usage was significantly less. Reach, however, automatically lowers your bill to $30 - the cost of our Basic 3GB plan. That's $25 in monthly savings automatically!
Here's what a customer says about Best Fit™
First, I want to thank the wonderful Customer Support team for making my transition to Reach so seamless. I asked a lot of questions before making the switch from the Big "V" and each was answered with professionalism. I also want to commend Reach for the Best Fit™ program, it has already saved me considerably over my plan with the other carrier.

- Frank G.
8. Auto pay your bills to avoid fines
This is the easiest and simplest way to save money on your mobile bill - pay your bill on time to avoid late fee fines. And a way to do that is to enable auto pay on your payments so that your bill is paid on time every time! However, there may be times when you need some extra time to make the payment. Reach Mobile's Pay Later feature lets its customers schedule their payment on a later date if they are unable to pay on the day of billing.
Ultimately, your mobile bill depends entirely on your carrier. Make sure that your carrier is transparent with the charges and that you have selected a plan that suits your data needs (not your carrier's).