Monthly mobile bill cutting a hole in your pocket? Check out the best family cell phone plans and save up to $300 a year on your mobile bill.
With every other big carrier marketing their unlimited data plans, it is no wonder that the average US consumer spends close to $80 a month on their mobile bill. And that too, for data they don't actually use!
If you are looking to save on your monthly mobile bill, there are a number of affordable family plans with shared data that you can choose from. Here's a quick guide to help you decide if family plans from Reach Mobile are right for you.
What are
family phone plans
?
Family plans or shared data plans offer a data pool (3GB, 8GB, 12GB, etc.) that can be shared among members in a group.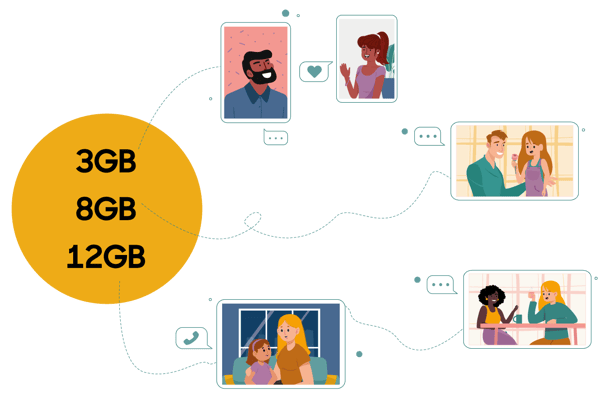 These types of plans work best in groups where the heavy data usage of one member gets offset by the lower data needs of another.
Benefits of family phone plans
Budget friendly
Shared family phone plans have many benefits, the foremost of which for many people is financial savings. Choosing the right shared plan for your family will help budget your mobile spend and cut your mobile bill by close to $300 a year. That's a significant amount of savings!
What's more? Some shared data plans offer a discount for every additional line added. For instance, if you sign up for Reach Mobile's People's Choice 12GB plan for 4, each line is charged at a discounted rate of just $29 a month.
Convenient
Apart from being lighter on your pocket, another reason why many opt for these budget friendly family plans is the convenience it offers. If members of a family have signed up for a shared family plan, each member doesn't have to go through the hassle of paying their mobile bills individually every month. Instead, the primary user or group owner pays the family's monthly mobile bill in one go. Simple and convenient.
Unlimited talk and text
With unlimited talk and text available for each line in the group, members can make as many voice calls and send as many texts as needed. If data gets exhausted before the end of the month, users have the option to buy additional data packs as needed. At Reach, our customers can purchase top-ups for $5 per 0.5GG, available to any line in the group, which is a cost-effective way to gain a few days of data usage before the next billing cycle.
Are shared data plans right for me?
Shared data plans are perfect for those looking to save money on their monthly mobile bill. These plans work best if you have a group of friends/family to share the data pool- the more the merrier! Shared data plans come in different data volumes. Examine your family's data needs, compare family phone plans and choose one that best suits all your requirements. Here are a few things for you to consider before you sign up for a family plan.
Contract period
Before signing up for the plan, consider carefully what the contract entails - how long are you tied to the service provider, and more importantly, what happens if you want to leave before the contract ends etc. Opt for a no-contract mobile service so that you always have the option to leave if you are not happy.
Saving money
Studies suggest that over 90% Americans overpay for their mobile data every month! Most of the overspending happens because people overestimate their data needs and end up signing up for higher plans that they don't really use.
To avoid overspending, it is important to get an idea about how much data you actually need and sign up for a plan that meets these data requirements. View your data usage by checking Settings on your phone or examining your most recent mobile service invoice. Compare phone plans to see which one suits you best.
Ease of managing the plan
Managing a family plan with multiple lines can be quite a task. It is important that you understand how easy or not easy it is to manage the plan you sign up for. A seamless app that allows you to manage every aspect of your plan - including changing the plan during the billing cycle - would make life much simpler.
Device contracts
When it comes to attractive device deals, none can beat the big carriers. These offers come with certain caveats in place - the user is bound to the service for a certain period of time. And if you want to leave before the contract ends, you have to pay a hefty fine. Simply look for a mobile service that lets you bring your own device (BYOD) to avoid such penalties. This way, you are not bound to the provider and can leave if another plan suits you better and saves you money.
Check out Reach Mobile's $120 new phone credit, available for up to 2 lines in your group
Try the better mobile service
Compiling and comparing a checklist of mobile service providers that meet all these requirements can be quite a task (we would still recommend you do your research). And while you are at it, we suggest you add Reach Mobile to the list as well.
Not only are Reach Mobile's shared data plans contract-free, and save you money every month, they can also be easily managed from the Reach app. In fact, with our Best Fit savings, Reach customers save up to $300 a year on their mobile bills!
That's because if you have signed up for one of Reach Mobile's shared data plans and by the end of the month if we notice your data usage was less than your plan data and a lower plan would have suited your needs better, we automatically bill you for the lower plan.
For instance, if you have subscribed to People's Choice 12GB plan for $55 and end up using only 7.5GB data by the end of your billing cycle (6th of the month), then you would be billed for the price of the lower Moderate 8GB plan, that's $45!
Here is Reach Mobile's line-up of much-loved shared data plans: