International travel, whether for business or for pleasure, is exciting! Figuring out a way to stay connected on a budget is about as pleasant as a TSA pat-down. Luckily, we can help.
We've all heard horror stories of people returning from a trip abroad only to be greeted with hundreds (even thousands) of dollars in international roaming charges. As a customer, it is extremely important to understand what you're signing up for when you purchase international roaming plans. Having a service provider who is upfront about the charges applicable and communicates it in a transparent manner (and of course, operates on the nation's best data network!) can make all the difference.
If you're planning a trip abroad, here are a few tips to keep in mind to help avoid unpleasant surprises on your mobile bills:
Turn on airplane mode while flying
In-flight connectivity charges can burn a deep hole in your pocket. Be mindful of this fact and keep your phone on airplane mode to avoid incurring these unnecessary charges. Once you land at your destination, switch off the airplane mode to reestablish your digital presence.
Turn off location services when not in use
While traveling abroad, using apps that use location services can incur hefty data usage charges. In fact, more than 90% of the apps used by smartphone users utilize location data in their default settings - Uber, Google Maps (in fact, all Google services), Instagram etc. are among some of the most popular. Disable the location feature on your phone when you don't need it so that you don't end up paying an unnecessary premium. To control which apps have location data enabled:
Apple devices: Settings → Privacy → Location Services
Android/Google devices: Apps & notifications → App permissions → Location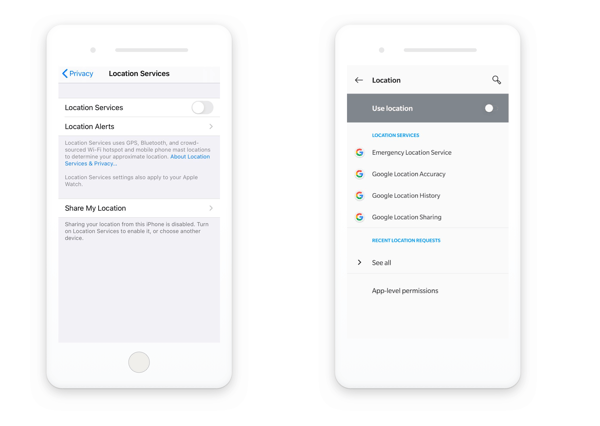 Disable apps that use data in the background
Since we are on the topic of apps, it is important to disable (or even temporarily delete) any seldom-used or nonessential apps before even setting out on your travel. Thanks to the cloud, it's practically effortless to redownload those apps when you return home and resume your regular data plan. (Tip: before deleting any apps, take a screenshot of your homescreen(s) or make a list of the apps you plan to delete, so you can easily restore your existing setup upon returning home.) Alternatively, you could also just stop nonessential apps from using data in the background. Here's how:
Apple devices: Settings → General → Toggle off Background App Refresh
Android/Google devices: General → Data Usage → select the app → Toggle off Background Data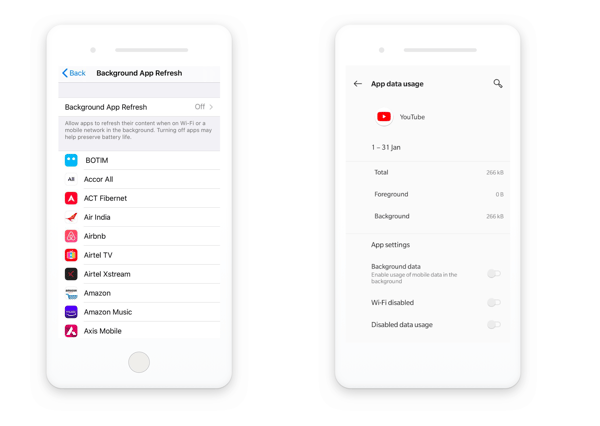 Take advantage of free WiFi
This is really a no-brainer. Most cafes, restaurants, airports and hotels offer free WiFi. Whenever possible, take advantage of the free WiFi available by saving your Instagram posts or email updates for a WiFi-friendly pit stop. Remember to turn off mobile data while using WiFi to avoid mobile data charges, since having both enabled can still result in some cellular data usage. When using WiFi abroad, you can help keep your personal information safe by using the same common-sense security precautions you would at a local cafe. Make sure you're using a secure, password-protected WiFi network to avoid identity theft. If a secure network isn't available, you're better off opting to use cellular data (which is more secure) or avoid accessing any password protected sites, such as email, social media accounts, or anything with financial information. While the convenience factor is tempting, it's better to be safe than sorry when using your phone abroad.
Avoid sending SMS messages and using Voice call
Typically, making Voice calls or sending/receiving SMSs can cost quite a bit depending on the country you are in (and your service provider). Look for plans that clearly communicate the pay-as-you-go voice and SMS charges so you aren't surprised. Additionally, opt for plans that sell data in fixed amounts (also called data packs) that can be used over the course of your travel. This way, you have better control over your data usage as well as your budget. Most providers bill you separately for SMS and Voice (and it has a sneaky way of adding up), so it is best to stick to using mobile data (or free WiFi wherever available) to save on international roaming cost.
Tip: Before your trip, let your friends, family (and colleagues) know about your travel plans and how they can contact you - Whatsapp, social media, Email or something that uses data. Request them to not call or SMS you since you would incur charges for incoming and outgoing messages and calls.
Choice of carrier
Last, but not least, unless your carrier is transparent in their communications about international roaming costs, you are bound to rack up a sizeable bill. Due diligence in understanding the roaming policies and costs of your carrier will go a long way in ensuring your bill stays within your desired budget. Most carriers charge daily rates or per-country charges, both of which jack up your spending without any incremental value. A few carriers, including Reach Mobile, offer bundled roaming services - that include data, voice and SMS - where you are charged based on usage (instead of a flat daily rate). This ensures you have better control over your data usage and spending.
How to effectively use WiFi
No matter where you are in the world, most hotels, cafes and airports offer free WiFi in an attempt to lure international travelers. Here are a few tips to save on mobile data and make use of the free WiFis on offer.
Upload photos over WiFi: Photo uploads consume quite a bit of data. Save mobile data by uploading photos using free WiFi.

Avoid streaming movies/videos: Plan to watch a movie or catch up on the latest Netflix series? Instead of streaming them using mobile data, download these prior to your travel.

Download and save maps: Google maps can be a life-saver while exploring unfamiliar cities. However, it is also a data-drainer. To save on mobile data, download maps before you begin your day or just take a screenshot of the route summary for simple turn-by-turn directions. For a more immersive experience, go old school - carry paper maps, talk to the locals and unleash the explorer in you.
International Roaming is only available to new Reach accounts on the 5G network.

For stress-free connectivity while traveling abroad, check out Reach Mobile's International Roaming.