Around the world millions of women live without access to digital resources and technology. This gender-based digital exclusion of women puts them at a significant disadvantage. Through our Get a plan, Give a plan initiative, Reach Mobile enables free data connectivity to women in need around the world. This International Women's Day we put the spotlight back on some remarkable women, in whose hands connectivity leads to a whole new level of digital empowerment.
Martha A.
Access to connectivity means different things to different women. For Martha, a student and mother to a school-aged daughter, this free connection has meant freedom from paying hefty monthly bills of her earlier mobile service. She keeps aside all the money that she saves to help secure a better future for her daughter.
"Because I'm a student and not working right now, [my Reach connection] helps me because I don't have to worry about the cost of a cell phone plan,"

says Martha.
Apart from the savings, Martha spends time improving her English skills using educational apps on her phone. "I use different educational apps, and watch videos in English to improve my English skills," says a rather proud Martha. She now works more closely with her daughter's school, tracks her progress and communicates better with the teachers. Job opportunities are also opening up for her now more than ever, thanks to her new-found confidence. All of this has contributed greatly to Martha's overall sense of security and belonging.
Mrs O
Meet Funke Owonubi, or 'Mrs O' as she is known. She is the Regional Director-Nigeria of Ripples Foundation, an NGO we work with to provide free data to women in need. While farming is the primary focus of the program, connectivity has added an important layer of education -- digital literacy. The free connectivity enables them to communicate more efficiently, access valuable resources online, and provides opportunity for personal enrichment.
"Before Reach connectivity, the Ripples team was sending information by car every week to deliver a USB and memory card to our headquarters in Lagos. Now that I can use cell phone data to send updates over email, I've been able to totally re-engineer my processes. My time is much more impactful when spent enriching our programs, training our volunteers, and supporting the women we serve."
Rajmani O.
For Rajmani O. and many others in her village, free connectivity has not only opened a window to the world, but also helped them lead a better quality of life. With a wealth of information at her fingertips, Rajamani has been able to make better-informed decisions related to her crops, resulting in improved harvest and profit margins.
"I have learned new farming techniques through YouTube that I use at my farm. YouTube also helps me tutor my kids at home, and when they are bored they can watch entertainment or educational shows on the mobile device using the internet."
In addition to online tools, Rajmani found that something as simple as a calculator could be remarkably empowering.
"Before I had a phone, the local shopkeeper would charge an incorrect rate for the items I would purchase from him. Now he can't, as I have a calculator on my phone."
Hand-in-hand with our connectivity partners, we at Reach have been able to connect closely with these wonderful women who have changed the course of their lives with a simple connected device.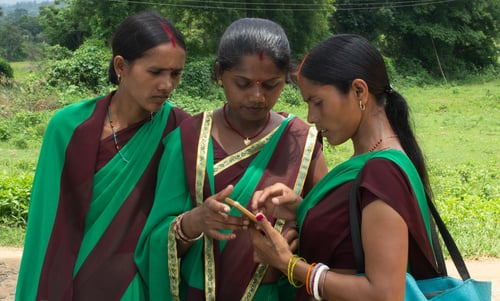 As a Reach customer, you play a vital role in enabling this connectivity to women and children around the world every month by simply doing what you love - using your mobile plan.
#IWD2021 #internationalwomensday #womenempowerment #choosetochallenge