Easy access to internet and mobile connectivity have become synonymous with our modern day lives. Yet, around 50.8 million. American households struggle to afford even the routine household bills (housing, food, child care, health care, transportation), including a monthly smartphone bill. Although these households earn just above the Federal Poverty Level, they still live paycheck to paycheck, and struggle under the added burden of their substantial mobile bill.
In an effort to bring meaningful mobile connectivity to such families, Get a plan, Give a plan (a Reach Mobile initiative to help bridge the Digital Divide) partnered with LIFT, an organization that works with families to help them secure a better future for themselves and their children.
In a country where technology exists everywhere, there are still many who miss out on its benefits. Our story today follows the lives of three hard working individuals who have been given a free Reach Mobile connection to support their journey out of the poverty cycle. The free mobile service from Reach Mobile enables them to connect with their family and friends, accelerate career and educational efforts, and at the same time, save a considerable amount of money every month.
Meet Martha A., who now has a reliable connection for herself and her school-aged daughter Daniela. A student herself, Martha was struggling to pay the hefty monthly bills of her earlier mobile service. "Because I'm a student and not working right now, [my Reach connection] helps me because I don't have to worry about the cost of a cell phone plan," says Martha.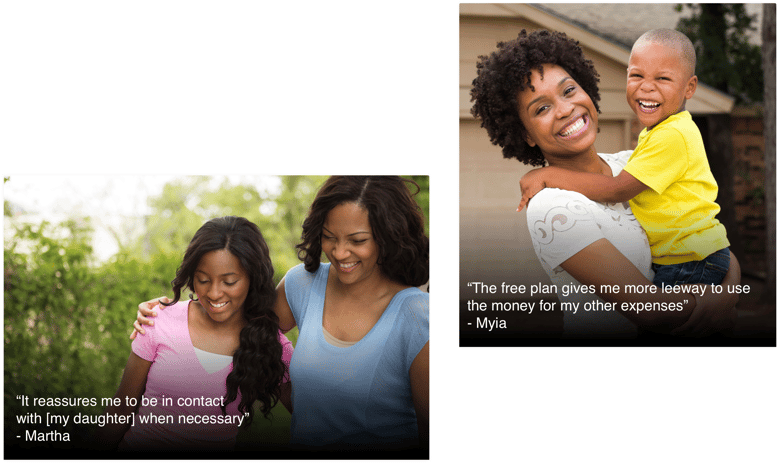 LIFT works closely with each of these families and helps them set actionable goals that center around increasing savings, reducing debt and securing jobs to provide economic stability. The free mobile service that has been provided to these families takes a big load off their shoulders, saving them upwards of $100 each month. The money that is saved can be either used for other expenses, or kept aside for emergencies. Considering around 29% of American households have only $1000 or less in savings, this is quite a significant amount for many of them. Myia P., another one of the recipients agrees. "The free plan gives me more leeway to use the money for my other expenses."
Apart from the savings, the Reach LIFTers also use their free plan to connect with their friends and families. "I love having it for my daughter, Daniela, because she's in school and it reassures me to be in contact with her when necessary," says Martha. Daniela loves that she is now able to do research for her homework and school projects at her convenience, without having to wait for access to their school computer or coordinate a trip to the public library. "I'm glad I have it in case of an emergency and to connect with friends and family," adds Myia.
"On a scale of 1-10, I'd give it a 10"
LIFT provides mentorship programs to help their members (the families in need) choose a profession or enroll in classes that increase earning potential and job security. Members are also connected with local resources and a broader community of their peers to help them build strong social connections with those around them.
Stephon W., another Reach LIFTer who has enjoyed the reliability of his Reach connection, uses his data plan for continuing education classes. "I use the internet on it every day to check my emails and to complete the work for my office administration class." He feels that the free data plan has helped him a lot in saving money, at the same time helping him stay in touch with friends and family. Frugal in his use of data, Stephon is very happy with his Reach plan. "I try not to use all of the data too quickly, but when I do use it the service is good everywhere I go." He adds, "If I could rate it on a scale of 1-10, I'd give it a 10! The service is good everywhere and I can always hear on calls. If I needed to, I would recommend this service to my friends and family.
Every month, the LIFT coaches connect with their members to check on their progress and help give them that extra push to achieve their dreams. Martha, who earlier had a lot of trouble communicating in English, has shown remarkable improvement over the past few months now. Every day after her classes, Martha spends time improving her English skills using educational apps on her phone. "I use different educational apps, and watch videos in English to improve my English skills," says a rather proud Martha.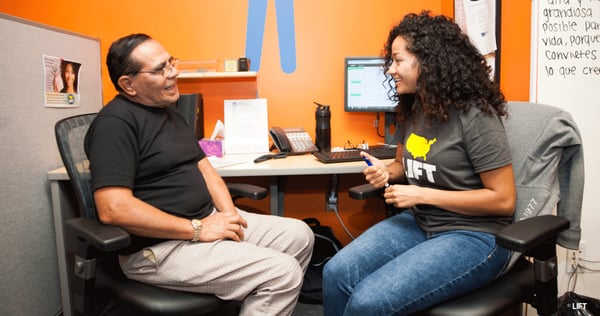 And proud she should be. After all, changing the course of one's life is not easy – it takes an enormous amount of grit and perseverance. Martha is now able to work more closely with her daughter's school, track her progress and communicate better with the teachers. Job opportunities are also opening up for her now more than ever, thanks to her new-found confidence. All of this has contributed greatly to Martha's overall sense of security and belonging.
Together with organizations such as LIFT, Get a plan, Give a plan has been able to connect closely with so many remarkable people and follow their journey towards a better life. We hope to impact many more such lives, one connection at a time. Stay tuned!