As part of our Get a plan, Give a plan initiative to empower women around the world with mobile connectivity, we have been tracking the impact that a mobile plan in the US can have on women in rural India. This time we follow the story of Kanak L., native of the East Singhbhum district in Jharkhand, India.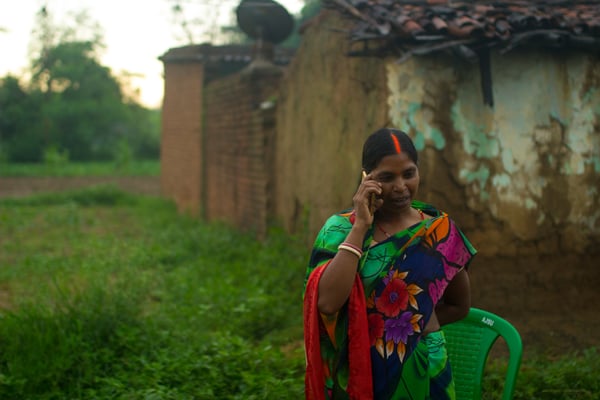 Like most other villagers in the district, Kanak and her family rely on their small farm to make ends meet. Due to lack of exposure and access to more scientific farming techniques, these families barely manage to produce enough to make a living.
In partnership with a broader outreach program orchestrated by The /Nudge foundation and the Jharkhand State Livelihood Promotion Society (JSLPS), Get a plan, Give a plan, has the distinct opportunity to help Kanak and many women like her access mobile technology, some for the first time in their lives. How? JSLPS, an autonomous branch of the state rural development department provided Kanak (and many women like her) with a smartphone, while Get a plan Give a plan is providing ongoing data connectivity over a minimum of 12 months' time. Coupled with their new connected devices, the women will also receive ongoing coaching and support from The/Nudge foundation on how to use their phones effectively to address many daily challenges.
"Empowering rural people is an essential first step to eradicating poverty. It respects the willingness and capability that each of us has to take charge of our own life and to seek out opportunities to make it better" - JSLPS
For instance, with access to YouTube channels on farming, Kanak has learned how scientific ways of farming can produce a better yield of crops that are healthier as well. Some of her learnings - more effective pesticides, better ways of irrigation - have already been applied on her small farm. She can't wait for the harvest season to see the results of her new learnings.
"While most of these women can't afford to spend 10,000 Rs on a smartphone, there are others who are too afraid to operate them."
Most of the recipients have never owned a smartphone in their lives, and were amazed at the wealth of information (and entertainment) available at their fingertips. These women are then educated and instructed on how to use a smartphone and the Internet as per their requirements.
This was Kanak's first smartphone with data and her excitement knew no bounds. While her husband and brother own smartphones, she has used it sparingly. In fact, very few women in her village own one. "While most of the women in my village can't afford to spend Rs 10,000 ($145) on a smartphone, there are others who are too afraid to operate them."
"I feel very confident now."
Being a fast learner, and a confident one at that, Kanak has quickly mastered the use of her smartphone and uses it to keep in touch with her long-distance friends and family. She says, 'I feel very confident now. I can talk and send messages to people who live far away.'
Like Kanak, many women in these rural parts have found a new-found confidence, thanks to their smartphones. Having lived their lives confined to the four walls of their homes, for the first time they have a window to the world. Armed with a connected smartphone, these women now have access to learning opportunities and support groups to help them in their journey.
Kanak, for instance, has been trained by the volunteers from these programs to use the internet to learn new vegetable farming techniques. One key benefit is that her land is not left unused after the routine crops have been harvested - she gets to earn some extra revenue generated from the vegetable farming.
"Earlier I used to often miss my producer group's meeting... Now I don't miss a single one because I get advance notice about the meeting via WhatsApp."
But Kanak doesn't use the internet to just learn more about farming. She books train tickets for her family, follows news online, and is even able to help her sons understand their lessons at school using the internet. And once she is through with her household chores, she keeps aside some time for herself to watch her favorite shows on YouTube.
That's one tech savvy mamma!
She is also quite proficient in using WhatsApp and has been able to stay connected with her farming self help group. She used to often miss their meetings earlier because these were held in another village. But not anymore. Kanak shares, "I used to miss my producer group's meetings often because they had to send someone to our village to convey the date and time to us. Now I don't miss a single one because I get advance notice about the meeting via our WhatsApp group."
In addition to YouTube and WhatsApp, Kanak also relies on Google Maps when traveling to other villages and cities. She says, "Earlier, when I visited nearby cities, I would have to ask strangers for directions. Now I just use Google maps." Access to information has given Kanak and her group of confident women a new-found freedom to travel and learn, without having to rely on anyone.
Kanak's story is one that proves something we have always believed in - with digital literacy, women can truly be empowered. Not only can they make better decisions for themselves and their families, but it also opens up a world of possibilities to them.
At Reach Mobile, we believe even the smallest act can have a huge impact, if done right. Hand-in-hand with our partners, we are working to bridge the digital divide, one connection at a time.
Happy connecting!