Buying a new phone is a pretty big deal, but it doesn't have to be complicated. This helpful phone buying guide offers insider tips on how to find the best phone for the best deal, plus how to avoid common phone buying mistakes.
A different approach to device buying
So, you need a new phone... Before heading to the mobile store, consider your other options – it just might save you big!
There are two simple reasons to buy a phone from a carrier: convenience (instant gratification, anyone?) and cost (oh look, it's 'free' with a new plan!). But the reality is, buying a device from the carrier adds restrictions, without any incremental value. You're either tied to the carrier through device locking or tied to a plan with a contract/device lease (which means that the 'free' phone actually comes with a price tag). Instead of paying the middleman mark-up, we recommend buying your phone straight from the source.
This guide covers your device purchasing options and the pros/cons of each.
But first, a quick disclaimer:
This blog is a guide, not a scientific fact. Please rely on common sense -- buy from a reliable source, read third-party reviews, and use what follows as a helpful resource, not the end-all and be-all of device compatibility.
Your mobile phone -- you have options
Whether you're switching service providers (like joining Reach Mobile) or just in need of a new device, getting the right one is simpler than you might think!
Step 1: Where to buy your new phone.
You can purchase in-store, but we almost always recommend buying at online stores because they offer wider selections, cheaper prices, and better return policies. If you want to see and feel the device in person before committing to a different phone, go to the store and experience it before placing an order online! Heads up: we don't recommend buying from places like Craigslist or Facebook Marketplace because the quality controls and safeguards simply aren't there (i.e. too risky for our liking).
How to buy a new phone in-store
Many local stores sell new devices, but there are a few important tips to keep in mind if you go this route:

Skip the carrier store.

Carriers like AT&T, T-Mobile, Sprint, etc. lock your device for a certain period of time even if you buy an unlocked model and pay it in full. Essentially, this keeps you hostage on their network even though you own the device (cray, right?) Go to stores like Apple, Microsoft, Best Buy, Target, Walmart, etc. where you have the option to purchase carrier-free.



Make sure the device is Unlocked and SIM-free. This will give you maximum flexibility in your mobile service.

Ask an associate to show you the Universally Unlocked models available.

If they ask you to activate now, decline the offer and let them know you'll get your own service (here's hoping with Reach!).

See if you can trade in an old device.

If you don't have any use for your current device, see if you can get a trade-in towards your new device for some savings. For ideas on how to recycle or donate your phone, click here
How to buy a new phone online
If you want a brand-new device, we recommend buying from highly reputable sources, such as the manufacturer's website
(i.e., Apple, Samsung ,Motorola , LG , HTC , Google or Amazon) You can also read up on a plethora of phone details at phonearena.com .
How to buy a refurbished device (the cheaper option)
Buying a refurbished cell phone is a great way to save some money (and help the environment, too). We recommend platforms like Amazon which check the validity of the device and offer buyer's protection for your safety. You can also purchase "certified pre-owned" devices from many device manufacturers. Always read the product description and return policy clearly before you make the purchase so you're ready to take action if anything goes wrong.
Check for these key factors to make sure the device will work on your preferred service provider (hint: Reach Mobile).

Is the device fully paid off and carrier unlocked?
It's critical that the device is fully paid off and carrier unlocked so that it can be used on other

carriers, like Reach. See our Device Readiness blog for more details.

Is the universally unlocked (and preferably LTE network preferred)?

The other benefit is that your device can be used in most parts of the world.

Step 2: Which phone model to choose?
As we've mentioned before, choose the universally unlocked model for more freedom in your mobile service. (This also helps ensure the device is ready to be activated on Reach, assuming you've selected one of the suggested models below.) The list price is typically higher, but you'll avoid hidden costs and headaches elsewhere.
Here are a few popular phone models that we recommend: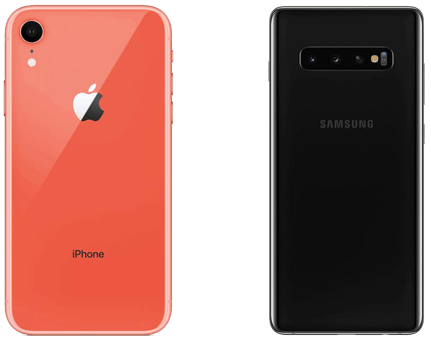 (If you're purchasing an Apple device, be sure to read our FAQ about the Apple Upgrade program)
Step 3: How to pay for your mobile phone
Next, you'll need to decide how to pay for your phone: either pay the full price upfront, or divide the payments over a term (aka financing). Beware major discounts advertised by carriers which often come with major catches (like device contracts, restrictions locking you to their network, or sneaky introductory pricing that you'll pay for later).
Consider financing through the device manufacturer. Samsung, for example, is offering 24 month 0% APR financing, plus discount potential from an eligible trade-in.
Also, don't rule out the less expensive phone models. This marketplace.com article shares some interesting insights from a Smartphone blind "taste test" that just might surprise you.
Conclusion
You wouldn't purchase a car that only ran on one brand of gas, so why on earth do we buy phones that only work with a single carrier? Speaking from experience, you won't save money in the long run by purchasing from a carrier or buying a carrier-locked device, even if the phone seems cheaper upfront. Exercise your options, consider financing plans that aren't tied to a carrier or service activation, and most importantly -- enjoy your new device!
Side bar: Does Reach Mobile sell devices or transfer device leases?
Not currently. The reason is simple: it wouldn't save you any money. An obvious downside is we don't currently offer one-stop-shopping. The upside, however, is that you'll get a much better deal on a phone by purchasing elsewhere (carrier stores excluded, of course). Carriers get away with advertising super-low prices on the latest phones because they make up those losses elsewhere, either in fees or by locking you into a device contract. By sourcing your own universally unlocked device (whether it's new or refurbished, purchased outright or financed), you're able to get a good deal and retain the freedom to switch carriers whenever you want to. Remember: there's no free lunch (or free phones) at any carrier.
If we add device sales or lease transfers in the future, you can be sure our approach will adhere to our Reach 10 principles and offer you the same options and transparency we'd want for ourselves.
TLDR (too long, didn't read):
When it comes to getting a new phone, you have options. Don't settle for buying a device from a carrier, because the reality is those good deals often come with major hidden costs and gotchas. For the most flexibility and the best deal all around, opt for buying a universally unlocked device from a reliable third-party (such as Amazon) or directly from the manufacturer (Apple, Samsung, etc.). Trust us, there's no better feeling than being a free agent when you can take your device to whichever carrier treats you the best.
Happy connecting,
The Reach Team